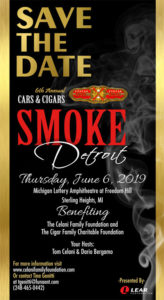 Cars & Cigars – Smoke Detroit Thursday, June 6, 2019 from 4:00-11:00 PM
This event features beautiful cars, excellent cigars, the Celani Family Vineyards wine, and a unique live auction. An annual event since 2014, we have raised money to benefit children and hunger relief in our community. EVENT INFORMATION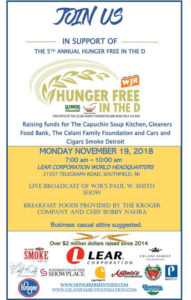 Hunger Free in the D November 19th
Together with Paul W. Smith of WJR Radio, the Celani Family Foundation hosts an annual radiothon to raise money to fight hunger in Detroit. Hunger Free in the D has raised more than $1,000,000 for local charities and has provided over 500,000 meals to families in need. The event this year will be held November 19th at Lear Headquarters in Southfield, MI. Learn more about this event HERE.